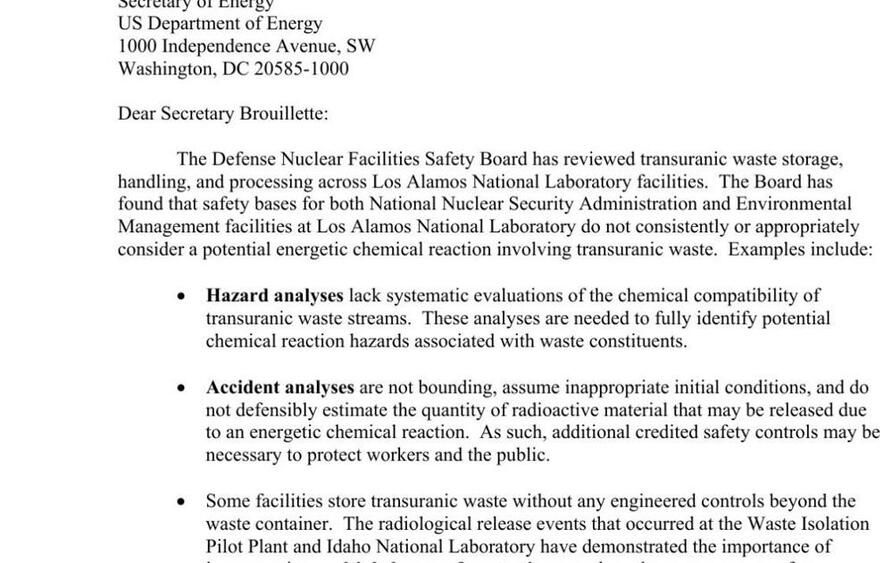 Los Alamos National Laboratory has identified 45 barrels of radioactive waste so potentially explosive — due to being mixed with incompatible chemicals — that crews have been told not to move them and instead block off the area around the containers, according to a government watchdog's report.
---
The safety board estimated an exploding waste canister could expose workers to 760 rem, far beyond the threshold of a lethal dose. A rem is a unit used to measure radiation exposure. In i ts latest weekly report, the safety board said crews at Newport News Nuclear BWXT Los Alamos, also known as N3B — the contractor in charge of cleaning up the lab's legacy waste — have pegged 60 barrels with volatile mixtures and have relocated 15 drums to the domed area.
Forty-five barrels are deemed too dangerous to move, raising questions of what ultimately can be done with them and how hazardous it would be to keep them in their current spot.
"The current restrictions are that the containers shall not be moved," the report said. "There is a marked buffer zone established around each container of potential concern, and intrusive operations are prohibited within the buffer zone."