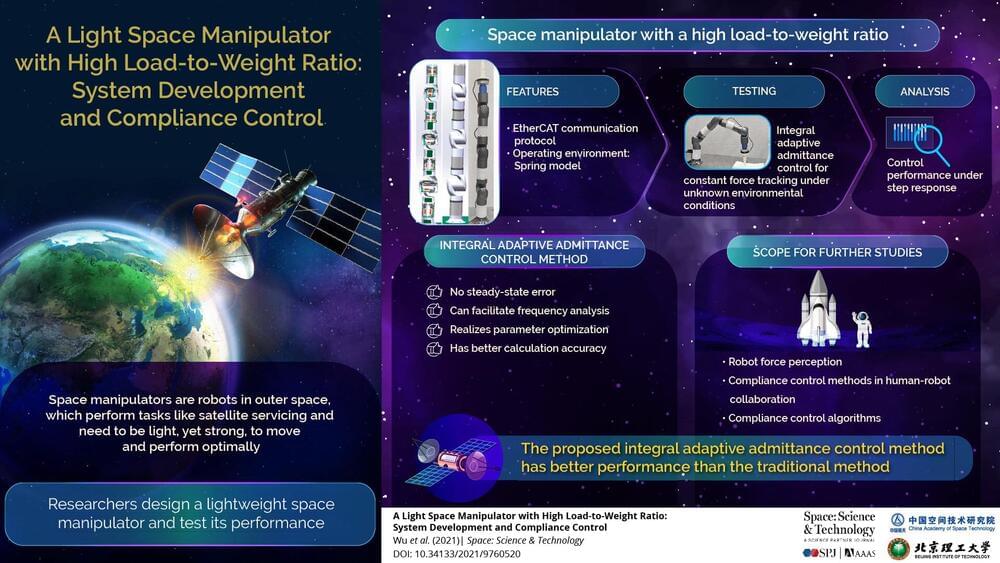 Robots are already in space. From landers on the moon to rovers on Mars and more, robots are the perfect candidates for space exploration: they can bear extreme environments while consistently repeating the same tasks in exactly the same way without tiring. Like robots on Earth, they can accomplish both dangerous and mundane jobs, from space walks to polishing a spacecraft's surface. With space missions increasing in number and expanding in scientific scope, requiring more equipment, there's a need for a lightweight robotic arm that can manipulate in environments difficult for humans.
However, the control schemes that can move such arms on Earth, where the planes of operation are flat, do not translate to space, where the environment is unpredictable and changeable. To address this issue, researchers in Harbin Institute of Technology's School of Mechanical Engineering and Automation have developed a robotic arm weighing 9.23 kilograms—about the size of a one-year-old baby—capable of carrying almost a quarter of its own weight, with the ability to adjust its position and speed in real time based on its environment.
They published their results on Sept. 28 in Space: Science & Technology.