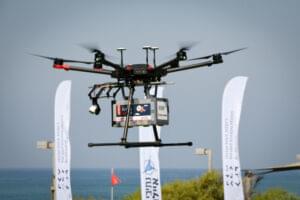 Israel's National Drone Initiative has launched the fourth phase of its pilot program, which this time will include night operations as well as flights in which cargo will be delivered directly via winches to the end customer.
NDI began flights over urban areas in January 2021, resumed trial flights on Sunday, involving several companies that manage and operate autonomous drone networks.
For the next two weeks, flights will take place day and night above Gush Dan and Yerucham, in order to integrate the use of drones in routine activities such as transportation of basic products, first aid; deploying a drone attached to a vehicle for real-time monitoring of traffic movement with AI-based elements that can provide forecasts, and much more.