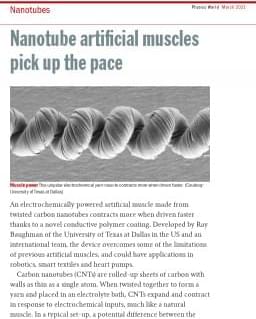 An electrochemically powered artificial muscle made from twisted carbon nanotubes contracts more when driven faster thanks to a novel conductive polymer coating. Developed by Ray Baughman of the University of Texas at Dallas in the US and an international team, the device overcomes some of the limitations of previous artificial muscles, and could have applications in robotics, smart textiles and heart pumps.
Carbon nanotubes (CNTs) are rolled-up sheets of carbon with walls as thin as a single atom. When twisted together to form a yarn and placed in an electrolyte bath, CNTs expand and contract in response to electrochemical inputs, much like a natural muscle. In a typical set-up, a potential difference between the yarn and an electrode drives ions from the electrolyte into the yarn, causing the muscle to actuate.
While such CNT muscles are highly energy efficient and extremely strong – they can lift loads up to 100,000 times their own weight – they do have limitations. The main one is that they are bipolar, meaning that the direction of their movement switches whenever the potential drops to zero. This reduces the overall stroke of the actuator. Another drawback is that the muscle's capacitance decreases when the potential is changed quickly, which also causes the stroke to decrease.