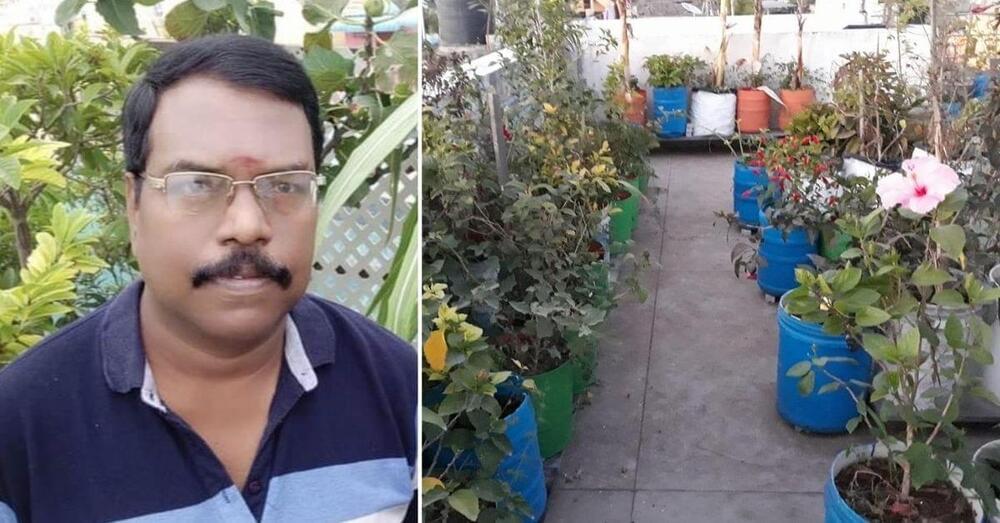 A midst the hustle and bustle in one of Chennai's busiest streets, Chrompet, 51-year-old S Sathyanarayanan has created a green paradise on his 1,200 sq ft terrace. He grows 400 plants including ornamental flowers such as moss roses, medicinal plants like moringa, fruits like figs, and vegetables like lady's finger, potatoes and more.
However, what's unique about Sathya's garden is that he prepares a variety of liquid fertilizers using kitchen ingredients to nourish his plants. Further, he also prepares a mix of water, jaggery, and an organic Waste Decomposer (WDC) solution in a 250-litre drum. This is fed to all plants regularly, which ensures healthy and pest-free growth.
"I started terrace gardening in 2015 after my family and I moved into our newly constructed home here. Earlier, we were living on the ground floor of a rented home and I could not grow many plants, as the availability of space was an issue. I started my gardening journey with 50 pots of money plants, tulsi, tomatoes and others. Today, my garden has over 400 pots, which grow ornamental flowers, fruits, and vegetables," says Sathya, adding that regular visitors to his garden include buzzing honey bees and chirping love birds.