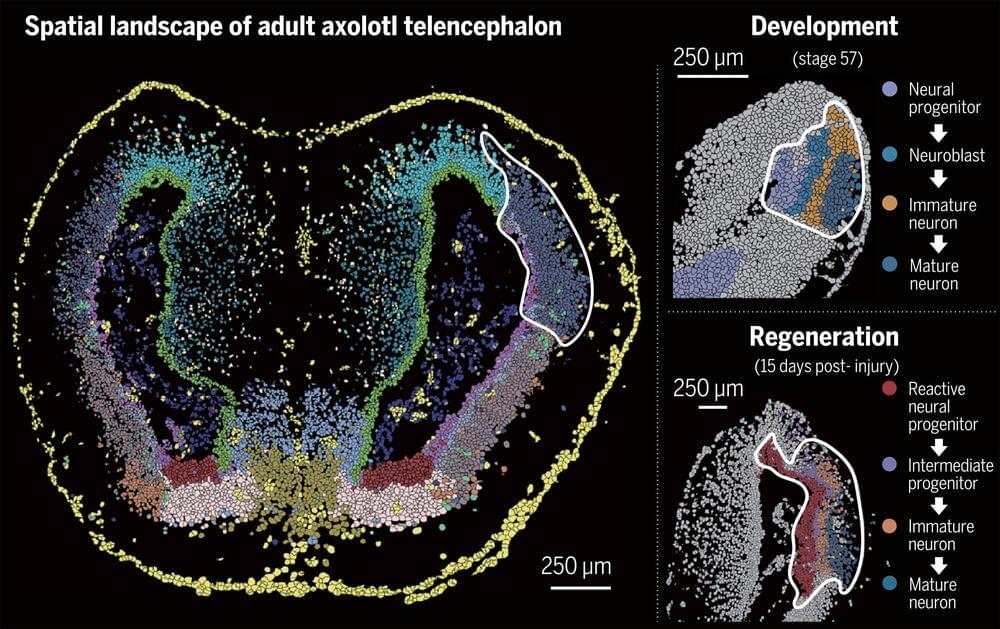 A multi-institute research team led by BGI-Research has used BGI Stereo-seq technology to construct the world first spatiotemporal cellular atlas of the axolotl (Ambystoma mexicanum) brain development and regeneration, revealing how a brain injury can heal itself. The study was published as a cover story in the latest issue of Science.
The research team analyzed the development and regeneration of salamander brain, identified the key neural stem cell subsets in the process of salamander brain regeneration, and described the reconstruction of damaged neurons by such stem cell subsets. At the same time, the team also found that brain regeneration and development have certain similarities, providing assistance for cognitive brain structure and development, while offering new directions for regenerative medicine research and treatment of the nervous system.
In contrast to mammals, some vertebrates have the ability to regenerate multiple organs, including parts of the central nervous system. Among them, the axolotl can not only regenerate organs such as limbs, tail, eyes, skin and liver, but also the brain. The axolotl is evolutionarily advanced compared to other teleost, such as zebrafish, and its brain features a higher similarity to mammalian brain structure. Therefore, this study used the axolotl as an ideal model organism for research into brain regeneration.