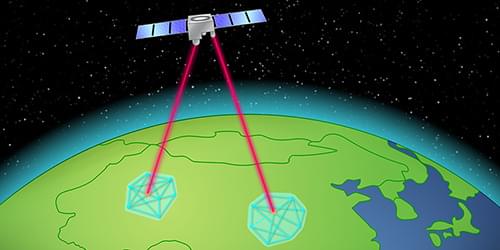 A series of demonstrations by Micius—a low-orbit satellite with quantum capabilities—lays the groundwork for a satellite-based quantum communication network.
Few things have captured the scientific imagination quite like the vastness of space and the promise of quantum technology. Micius—the Chinese Academy of Science's quantum communications satellite launched in 2016—has connected these two inspiring domains, producing a string of exciting first demonstrations in quantum space communications. Reviewing the efforts leading up to the satellite launch and the major outcomes of the mission, Jian-Wei Pan and colleagues at the University of Science and Technology of China provide a perspective on what the future of quantum space communications may look like [1]. The success of this quantum-satellite mission proves the viability of several space-based quantum communications protocols, providing a solid foundation for future improvements that may lead to an Earth-spanning quantum communications network (Fig. 1).
Photons, the quanta of light, are wonderful carriers of quantum information because they are easy to manipulate and travel extremely fast. They can be created in a desired quantum state or as the output of some quantum sensor or quantum computer. Quantum entanglement between multiple photons—the nonclassical correlation between their quantum states—can be amazingly useful in quantum communications protocols such as quantum key distribution (QKD), a cryptography approach that can theoretically guarantee absolute information security. QKD schemes have been demonstrated on distances of a few hundreds of kilometers—sufficient to cover communications networks between cities. But increasing their range, eventually to the global scale, is a formidable challenge.