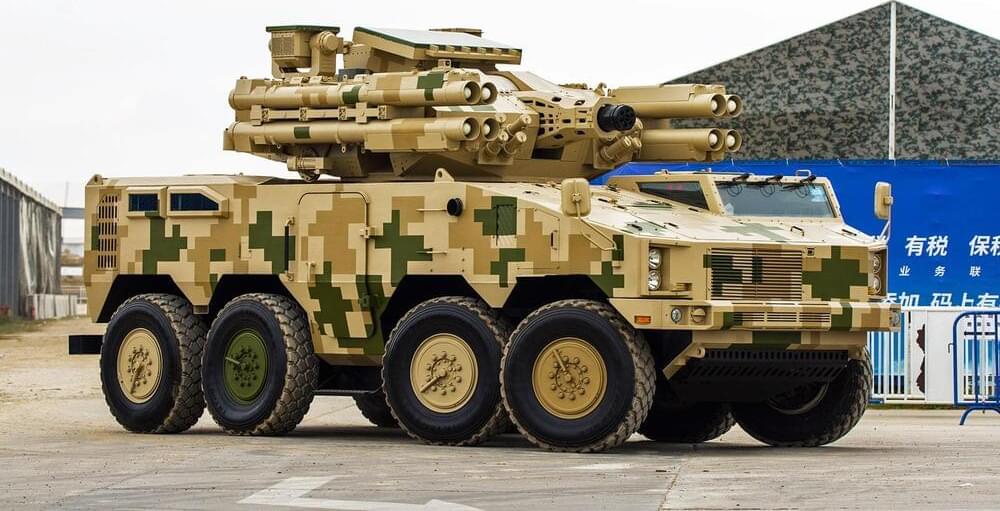 Judging by pictures of the system alone, the Type 625E short-range air defense system (SHORAD) looks to be an 8×8 vehicle-mounted self-propelled anti-aircraft gun and surface-to-air missile system of sorts. For Zhuhai, the Type 625E was sporting a pixelated desert camouflage scheme and, of course, its stacked armament. Its turret with a sizable Gatling-style cannon is especially difficult to ignore, with the barrel pointed directly at the camera in some pictures taken during the show, and it is believed to be of the 25mm variety, but that detail remains unconfirmed. Land-based close-in defense Gatling-style guns of this type are becoming increasingly prominent in China's weapons portfolio.
The vehicle also comes equipped with four canisterized missiles fitted to either side of the turret. The exact type of missile used on this system is unclear, but the general configuration would suggest that they could be FB-10 short-range types. Reportedly designed by the China Aerospace Long-March International (ALIT) company, FB-10 traces back to at least 2014 and appears to have entered service with the People's Liberation Army at least on some level the following year. China then displayed the FB-10 at the Zhuhai Air Show in 2016 mounted on a 6×6 truck chassis as opposed to the Type 625E's 8×8 vehicle base.
An FB-10A variant was then unveiled in 2021 during the Egypt Defense Exhibition in a similar configuration to the 2016 showcase, and its chassis was this time confirmed to be a Dongfeng Mengshi 6×6 light tactical vehicle. There also appears to be an FB-20 air-defense missile system, though confirmed information about this derivative is even thinner. FB-series missiles can purportedly engage low-flying air targets at a maximum range of over 6 miles (10 km) and reach an altitude of anywhere between 49 feet (15 m) to roughly 3 miles (5,000 m).