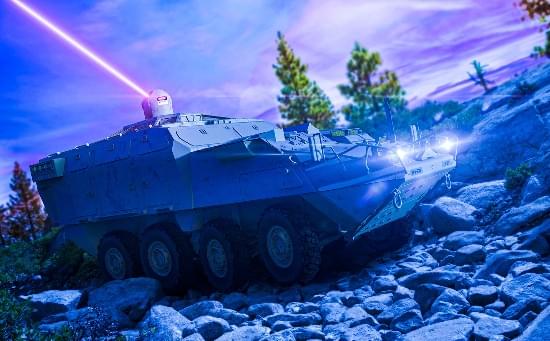 The DEIMOS laser weapon is seen here in illustration, capable in the near future of knocking a drone, ordinance, aircraft and even missiles out of the sky.
---
It is the economics of laser weapon systems that makes this type of ordinance so attractive. At the moment various vendors like Lockheed Martin, and Raytheon are building 50 Kilowatt laser weapons. But there is no determining limit on the strength. The U.S. Department of Defense estimates a 100 Kilowatt laser could easily handle a drone, a small boat, a shell fired by artillery, and even a mortar. For a cruise missile, the estimate is a 300 Kilowatt laser, and for a ballistic missile or hypersonic weapon, a 1 Megawatt laser. Lockheed Martin is already testing a 300 Kilowatt version of DEIMOS.
The US Navy is looking at 100 Kilowatt versions of DEIMOS for its ships and looks like it will replace arming vessels with rail gun technology which now appears to be considered obsolete. Rail guns were high-speed ordinance systems designed to knock down incoming cruise missiles but when costs are compared the laser has the technology beat.
Lockheed Martin's version performs in any atmospheric condition. Combined with target tracking radar the laser can be pointed at a target with precision even when travelling at hypersonic speeds.