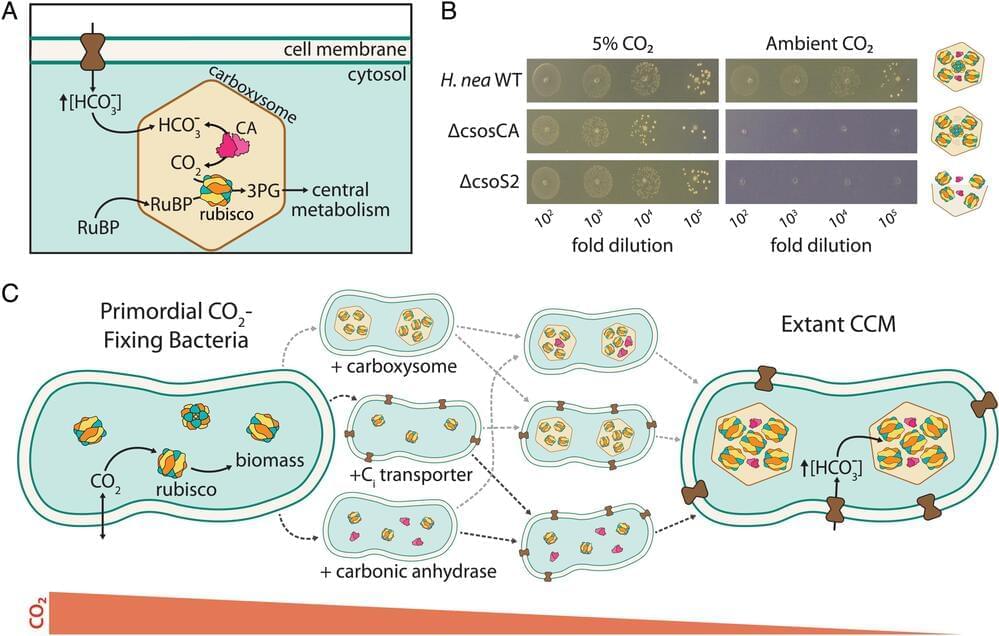 Cyanobacteria are single-celled organisms that derive energy from light, using photosynthesis to convert atmospheric carbon dioxide (CO2) and liquid water (H2O) into breathable oxygen and the carbon-based molecules like proteins that make up their cells. Cyanobacteria were the first organisms to perform photosynthesis in the history of Earth, and were responsible for flooding the early Earth with oxygen, thus significantly influencing how life evolved.
Geological measurements suggest that the atmosphere of the early Earth—over three billion years ago—was likely rich in CO2, far higher than current levels caused by anthropogenic climate change, meaning that ancient cyanobacteria had plenty to "eat."
But over Earth's multi-billion-year history, atmospheric CO2 concentrations have decreased, and so to survive, these bacteria needed to evolve new strategies to extract CO2. Modern cyanobacteria thus look quite different from their ancient ancestors, and possess a complex, fragile set of structures called a CO2-concentrating mechanism (CCM) to compensate for lower concentrations of CO2.