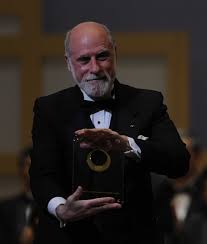 Wednesday on the Opinion Pages of the NY Times the renowned Vinton Cerf "father of the internet" published an article titles Internet Access Is Not A Human Right. It could be argued that the key word here is "access", but before I address access again, I should start with the definition of the internet. I had this debate while at Michigan State in October of 2010 with the philosopher Andrew Feenberg. I'll do my best not to be redundant while everything is still live via the links in this article.
Perhaps the internet requires much more definition, as the roots of the word can be confusing. Inter: situated within – Net: any network or reticulated system of filaments or the like. Its terminology is synonymous with the "web" or a web, which requires multiple linkages to points of initiation in order to exist well. If this is the internet that Feenberg is referring to then I'd think it accurate. However, the internet is not actually a web of ever connected points. Information destinations are not required.

The internet is analogous to space. Regardless of whether or not we access space, its potential exists – we can access or insert entities of sorts into the space regardless of, if another user were present to receive information of sorts from the distributed. Space is a dynamic system of expanding material potential as is the internet's material potential. The potential of the internet expands as users (or rather, potential users) access to the internet expands – access could come in many forms including, user population(s) growth or by computing speed or by computing power… The internet, regardless of the constraints of the word, it cannot be identified as a specific technology.
Continue reading "The Internet is a Human Right, VINTON G. CERF is Mistaken" »