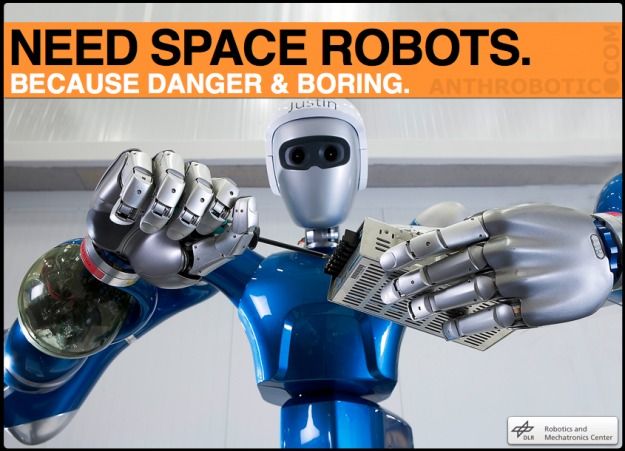 A Point too Far to Astronaut
It's cold out there beyond the blue. Full of radiation. Low on breathable air. Vacuous.
Machines and organic creatures, keeping them functioning and/or alive — it's hard.
Space to-do lists are full of dangerous, fantastically boring, and super-precise stuff.
We technological mammals assess thusly:
"Robots. Robots should be doing this."
Enter Team Space Torso
As covered by IEEE a few days ago, the DLR (das German Aerospace Center) released a new video detailing the ins & outs of their tele-operational haptic feedback-capable Justin space robot. It's a smooth system, and eventually ground-based or orbiting operators will just strap on what look like two extra arms, maybe some VR goggles, and go to work. Justin's target missions are the risky, tedious, and very precise tasks best undertaken by something human-shaped, but preferably remote-controlled. He's not a new robot, but Justin's skillset is growing (video is down at the bottom there).
Now, Meet the Rest of the Gang:


NASA's Robonaut2 (full coverage), the first and only humanoid robot in space, has of late been focusing on the ferociously mundane tasks of button pushing and knob turning, but hey, WHO'S IN SPACE, HUH? Then you've got Russia's elusive SAR-400, which probably exists, but seems to hide behind… an iron curtain? Rounding out the team is another German, AILA. The nobody-knows-why-it's-feminized AILA is another DLR-funded project from a university robotics and A.I. lab with a 53-syllable name that takes too long to type but there's a link down below.
Continue reading "Keeping Humans Safe in Space: Meet Robot Torsos Justin, Robonaut, SAR-400, & AILA" »