Will drones give you better shopping recommendations by watching your house?
By Adi Robertson on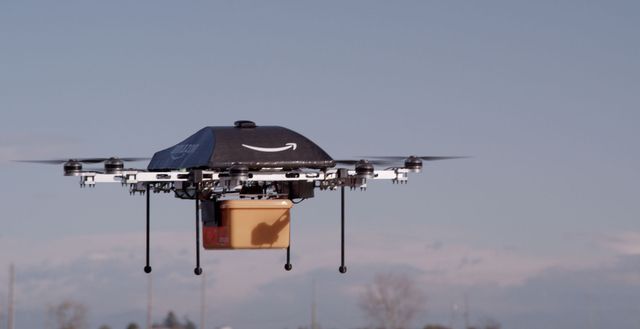 Since Jeff Bezos announced Amazon's hypothetical delivery-by-octocopter service earlier this week, its drones have become a point of focus for existing debates over privacy, regulation, and "disruptive" technology. The plan has given a sense of urgency to questions about widespread governmental and commercial drone use, and a new hook for members of Congress trying to answer those questions through legislation. Yesterday, Rep. Ted Poe (R-TX) became the second member of Congress to raise the specter of Amazon Prime Air to support an anti-surveillance bill, giving a sometimes colorful account of how the drones could change our future.
"In just a few years, Bezos said people will be able to order something online and have it in their hands within 30 minutes by the use of drones. It sounds like something out of the Jetsons, doesn't it? Gone will be the days of the neighborhood mail carriers. Soon there will be a drone to replace them. According to Amazon, these drones can deliver packages up to 5 pounds, which makes up 90 percent of their deliveries.
Mr. Speaker, thousands of Americans use Amazon every year, especially around the holiday season. Amazon, unlike the glitch-ridden government Web sites, can efficiently use online Internet services that get a timely product to market. Think of how many drones could soon be flying around the sky. Here a drone, there a drone, everywhere a drone in the United States."