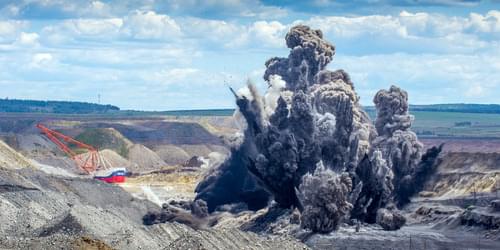 An explosive material fabricated with a highly porous structure is inactive but is easily "switched on" when filled with water.
Despite great effort, researchers have failed to find ways to make explosives entirely safe during storage yet still easily usable when needed. Now a research team has demonstrated an explosive with these properties by creating a highly porous structure for their explosive material [1]. The voids prevent the structure from supporting a sustained propagating wave of detonation, but filling the voids with water can quickly restore the explosive capacity. The researchers hope this technique can provide safer explosives for use in areas such as mining and oil exploration.
Storing highly explosive materials is inherently risky—in the military world, for example, over 500 accidental explosions occurred at munitions sites between 1979 and 2013, according to a survey [2]. These materials could be safer if they could be easily switched between an explosive-ready state and a "safe" state. "A switchable explosive is the holy grail of explosives research," says chemist Alexander Mueller of the Los Alamos National Laboratory in New Mexico. He and his colleagues believe that they are the first to achieve it.