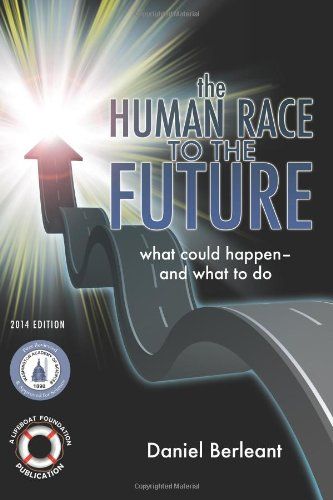 From CLUBOF.INFO
The Human Race to the Future (2014 Edition) is the scientific Lifeboat Foundation think tank's publication first made available in 2013, covering a number of dilemmas fundamental to the human future and of great interest to all readers. Daniel Berleant's approach to popularizing science is more entertaining than a lot of other science writers, and this book contains many surprises and useful knowledge.
Some of the science covered in The Human Race to the Future, such as future ice ages and predictions of where natural evolution will take us next, is not immediately relevant in our lives and politics, but it is still presented to make fascinating reading. The rest of the science in the book is very linked to society's immediate future, and deserves great consideration by commentators, activists and policymakers because it is only going to get more important as the world moves forward.
The book makes many warnings and calls for caution, but also makes an optimistic forecast about how society might look in the future. For example, It is "economically possible" to have a society where all the basics are free and all work is essentially optional (a way for people to turn their hobbies into a way of earning more possessions) (p. 6–7).
Continue reading "Book Review: The Human Race to the Future by Daniel Berleant (2013) (A Lifeboat Foundation publication)" »