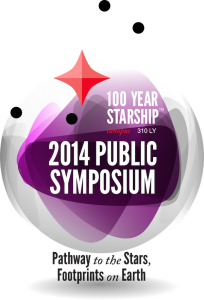 100 Year Starship announces a Call for Papers for the 100YSS 2014 Public Symposium. The Symposium will be held September 18–21 at the George R. Brown Convention Center in Houston, Texas, United States.
You're invited to submit your abstract for one of the eight Technical Tracks or Poster Session and be a part of our transdisciplinary scope to include the broadest swath of ideas and people for our mission. Abstract deadline is 20 June, 2014.
The Pathway to the Stars, Footprints on Earth theme still guides the focus of 100YSS's Public Symposium. It compels us to continue our journey and maintain our mission. Last year, our participants explored different avenues of fundamental research, technology development, societal systems, and capacities that facilitate ready access to our inner solar system. This year we move that focus forward with more in-depth access to emerging and cutting edge topics – expanding our view of design, creating new pathways in education, discovering psychology, and cutting edge transportation methods. Using a collaborative and Transdisciplinary approach to capability and capacity building, our mission will continue to support our efforts to enhance life here on earth…today. Join us as we log another year in our 100-year mission at the 100YSS 2014 Public Symposium.
Below are the tracks for our 2014 Call For Papers.
Continue reading "100 Year Starship Call for Papers // 2014 Public Symposium" »