At the end of October, I delivered a keynote speech at the Cryptocurrency Expo in Dubai. That was just 5 weeks ago. When I left for the conference, Bitcoin was trading at $6,300/BTC. But in the next few weeks, it reached $10,000. Last week, I liquidated part of my investment at just under $13,000/BTC. Now, Bitcoin is about to cross $16,000. (I began writing this 10 minutes ago…but it has risen another $1600.00. Now, it is $17,000).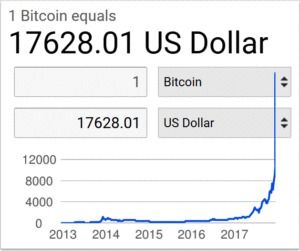 Dear Reader: I believe in Bitcoin. Yet, there is a "But" in the last paragraph below…
I believe in Bitcoin. Its rise is not fueled solely by investor hysteria. Rather, it is a product of delayed appreciation for a radical, transformative network technology.