There are at least four ways to acquire Bitcoin and three ways to store it…
---
Acquire Bitcoin: You can trade Bitcoin in person, accept it as a vendor, mine it, or buy on an exchange.
Store Bitcoin: You can keep your Bitcoin in an online/cloud service (typically, one that is connected to your exchange account), keep it on your own PC or phone, or even print it out and store it on a piece of paper. Like a physical coin, the piece of paper has value. It can be placed in your lock box or under your mattress.
Let's look at the market for Bitcoin Wallets (all of these are free), and then we shall talk about Bitcoin exchange services. This includes my personal recommendation for the typical consumer or coin enthusiast…
1. Choosing a Wallet
You can start your search for a wallet on this page at Bitcoin.org. Use the drop down tabs to refine your search by platform: Mobile, Desktop, Hardware gadget or Web. Don't overlook the web option. For many users, the wallet (and VAULT) included with an online exchange account is all you need.
Each wallet platform is further distinguished by operating system. For example, you can find a smartphone wallet for Android, Apple, Windows Mobile or Blackberry. Some popular apps are listed under more than one OS or platform.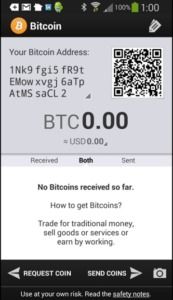 When you click on any of the app logos, you will see a checklist of five key traits, according to reviewers at the Bitcoin Foundation:
Control over your money
Simplified validation
Basic transparency
Secure environment
Weak privacy
These are not necessarily critical traits/features. It depends on your needs and preferences. For example, everyone wants good privacy and security. But not everyone wants to control their private keys. That places the risk of loss, backup and/or the burden of inheritance issues on you, rather than a standardized recovery process. The feature comparison simply helps you to begin your own comparison and evaluation.
For Android users, my personal recommendation is Bitcoin Wallet by Andreas Schildbach (the logo is a tilted orange 'B'). It is simple, secure, well maintained and very popular. (iPhone users: See my my suggestion in the recommendations, below).
2. Portable –vs– Online
Despite the simplicity and low cost of spending or sending Bitcoin between individuals and vendors, getting your first Bitcoin can be confusing, complex and even risky. For this reason, I suggest that Newbies open an account at a very established and trustworthy exchange.
In the near future, this will include most big banks. But for now, the safest and most reputable exchange is Coinbase in San Francisco. They are also the one with the highest level of regulatory compliance.
Bitstamp of Slovenia and Great Britain is a close second. In my opinion, using either of these organizations as a currency exchange or a secure place to park your digital currency is a safe bet.
Both of these exchanges include a cloud wallet service that—when used properly—is safe and secure. But, because Bitcoin is still in its infancy, you will need to learn about sweeping funds into a 'vault' (to better protect against hacking) and you should also learn about portable backups and multi-sig (to protect your assets, in the event of forgetfulness, death or incapacitation).
With either type of wallet—device storage or online with an exchange—I recommend that you install and play with a portable wallet on your phone, just to get the hang of a few basic functions: Display wallet address for incoming money, Send money, Request money (i.e. send an invoice), and Pay with the QR-camera feature. All wallets serve these basic and critical needs.
Recommendations:
Coinbase is a most reputable exchange for buying/selling & storing Bitcoin
Bitcoin Wallet by Andreas Schildbach is an excellent choice for portable, secure storage. This app is available for Android phones only. Apple iPhone users may wish to try Bitcoin Wallet by Blockchain. I have not reviewed it. It has a slightly less friendly user interface but it is stable and very popular.
Related Reading:

Philip Raymond co-chairs CRYPSA, produces The Bitcoin Event and is a board member at
Lifeboat. He will deliver the Keynote Address at Digital Currency Summit in Johannesburg.