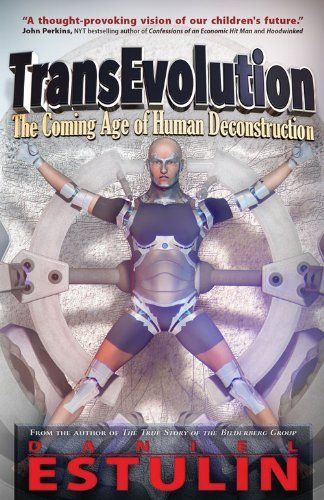 - @ClubOfINFO — TransEvolution: The Coming Age of Human Deconstruction (2014) is an alarmist book by Daniel Estulin, a commentator on the secretive Bilderberg Group who is well-liked by many – in particular on conspiracy theorist forums. Essentially, this should be regarded as conspiracy theory material. My refutations of it are too many to cram into this review, so I will mainly focus on what the book itself says.
Daniel Estulin connects disparate events and sources to depict an elaborate conspiracy. The main starting claim of the book is a link between the 2005 Bilderberg Conference and the 2006 document Strategic Trends 2007–2036 prepared by the British government (p. 1–12). Estulin claims that the latter report's predictions betray "Promethean" plans that represent "designs by the Bilderberg Group".
The book makes the allegation that the economic pressure on the world today "is being done on purpose, absolutely on purpose. The reason is because our current corporate empire knows that "progress of humanity" means their imminent demise". The "powers-that-be"
destroy nation-states
to maintain power, and "this is by design" (p. 13). Estulin decries international money flows and globalization, and promotes "physical economy" instead. To make a long story short, he describes the apparatus of globalization, integration, etc. as a clash between the nation-state and global oligarchy and frames this as a classic battle between good and evil respectively (p. 13–35). "The ideas of a nation-state republic and progress" are intrinsically connected (p. 34), Estulin argues, putting forward his preference for the old Jacobin ideological script of the Nineteenth Century rather than modern discourses on integration and communication.
In his preference for the nation-state, Estulin attacks the WTO's record on free trade, and makes criticisms that are provisionally valid. However, he confuses the tendency for weaker nations to be exploited through free trade with a conspiracy against the nation-state. The WTO's commitment to what it calls free trade, a commitment to "One World, One Market", reflects "anti-nation-state intent", Estulin argues (p. 37–38).
Continue reading "TransEvolution (2014) by Daniel Estulin (@EstulinDaniel): Review" »