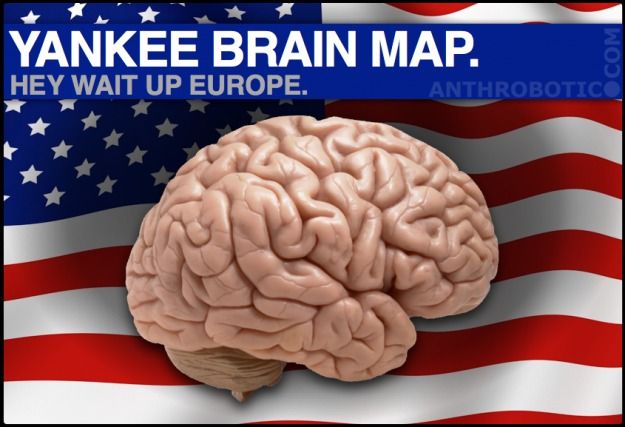 The Brain Games Begin
Europe's billion-Euro science-neuro Human Brain Project, mentioned here amongst machine morality last week, is basically already funded and well underway. Now the colonies over in the new world are getting hip, and they too have in the works a project to map/simulate/make their very own copy of the universe's greatest known computational artifact: the gelatinous wad of convoluted electrical pudding in your skull.
The (speculated but not yet public) Brain Activity Map of America
About 300 different news sources are reporting that a Brain Activity Map project is outlined in the current administration's to-be-presented budget, and will be detailed sometime in March. Hoards of journalists are calling it "Obama's Brain Project," which is stoopid, and probably only because some guy at the New Yorker did and they all decided that's what they had to do, too. Or somesuch lameness. Or laziness? Deference? SEO?
For reasons both economic and nationalistic, America could definitely use an inspirational, large-scale scientific project right about now. Because seriously, aside from going full-Pavlov over the next iPhone, what do we really have to look forward to these days? Now, if some technotards or bible pounders monkeywrench the deal, the U.S. is going to continue that slide toward scientific… lesserness. So, hippies, religious nuts, and all you little sociopathic babies in politics: zip it. Perhaps, however, we should gently poke and prod the hard of thinking toward a marginally heightened Europhobia — that way they'll support the project. And it's worth it. Just, you know, for science.
Going Big. Not Huge, But Big. But Could be Massive.
Both the Euro and American flavors are no Manhattan Project-scale undertaking, in the sense of urgency and motivational factors, but more like the Human Genome Project. Still, with clear directives and similar funding levels (€1 billion Euros & $1–3 billion US bucks, respectively), they're quite ambitious and potentially far more world changing than a big bomb. Like, seriously, man. Because brains build bombs. But hopefully an artificial brain would not. Spaceships would be nice, though.
Continue reading "Human Brain Mapping & Simulation Projects: America Wants Some, Too?" »