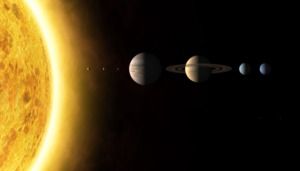 What's wrong with this illustration of the planets in our solar system? »
For one thing, it suggests that the planets line up for photos on the same solar ray, just like baby ducks in a row. That's a pretty rare occurrence—perhaps once in several billion years. In fact, Pluto doesn't even orbit on the same plane as the planets. Its orbit is tilted 17 degrees.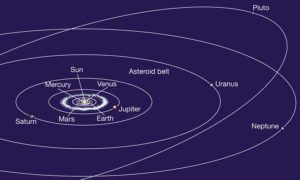 So, forget it lining up with anything, except on rare occasions, when it crosses the equatorial plane. On that day, you might get it to line up with one or two planets.
But what about scale? Space is so vast. Perhaps our solar system looks like this ↓
No such luck! Stars and planets do not fill a significant volume of the void. They are lonely specs in the great enveloping cosmic dark.*

Space is mostly filled with—well—space! Lots and lots of it. In fact, if Pluto and our own moon were represented by just a single pixel on your computer screen, you wouldn't see anything around it. Even if you daisy chain a few hundred computer screens, you will not discern the outer planets. They are just too far away.
Continue reading "Solar System Map: Surprisingly deceptive" »