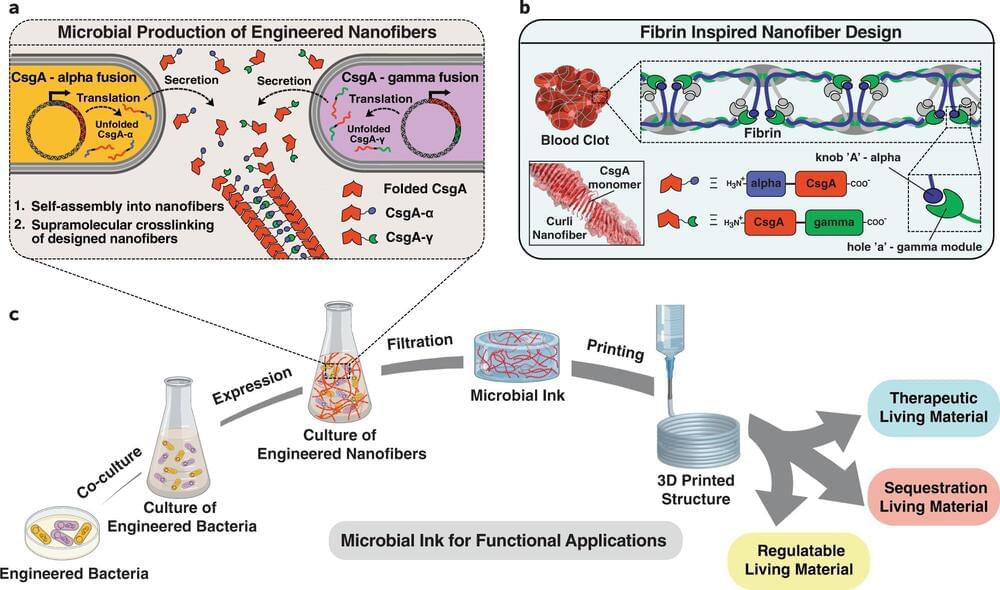 A team of researchers from Harvard University and Brigham and Women's Hospital, Harvard Medical School, has developed a type of living ink that can be used to print living materials. In their paper published in the journal Nature Communications, the group describes how they made their ink and possible uses for it.
For several years, microbial engineers have been working to develop a means to create living materials for use in a wide variety of applications such as medical devices. But getting such materials to conform to desired 3D structures has proven to be a daunting task. In this new effort, the researchers have taken a new approach to tackling the problem—engineering Escherichia coli to produce a product that can be used as the basis for an ink for use in a 3D printer.
The work began by bioengineering the bacteria to produce living nanofibers. The researchers then bundled the fibers and added other ingredients to produce a type of living ink that could be used in a conventional 3D printer. Once they found the concept viable, the team bioengineered other microbes to produce other types of living fibers or materials and added them to the ink. They then used the ink to print 3D objects that had living components. One was a material that secreted azurin—an anticancer drug—when stimulated by certain chemicals. Another was a material that sequestered Bisphenol A (a toxin that has found its way into the environment) without assistance from other chemicals or devices.